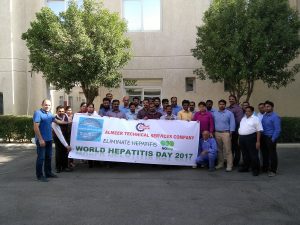 Almeer celebrated World Hepatitis Day on July 31, 2017 to express its solidarity with the WHO's global movement to eliminate viral hepatitis.
One of just four disease-specific global awareness days officially recognized by the World Health Organization (WHO), World Hepatitis Day is the day when the world joins together to drive action, to transform the lives of 325 million people living with the disease and to play a part in the fight to eliminate viral hepatitis by 2030.
An Awareness campaign is concluded on 31st July 2017 successfully to contribute to the global movement to eliminate viral Hepatitis by spreading the message.