INTRODUCTION
Almeer's corporate philosophy has always been controlled growth in tandem with focused and continued maintenance of the highest level of customer services and support.
Established in 1978, Almeer technical Services co. w.l.l. has progressively advanced through challenging assignments to carve a successful niche as the quality provider, in a wide range of engineering needs among a distinguished and demanding list of clients in and around Kuwait. The company's business oers a wide range of services to major industries in the disciplines of Instrumentation, Electrical, Mechanical and Civil activities. In short, Almeer provides a "Total Solution".
OUR MISSION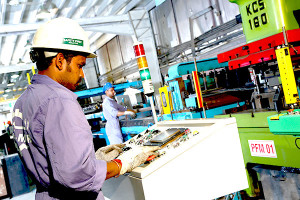 FOCUS
To accomplish our goal we are focused on recruiting, maintaining and motivating a highly competent, professional staff which is dedicated to the goals and principles of Almeer.
The staff must exist within, and be comfortable with, a culture that encourages all employees to work together towards the common goals of the project.
QUALITY ASSURANCE
Years of partnering with clients of such caliber have brought operational growth and development along with continuous improvisation, innovation and renement in the company's expertise. Steady growth has been the output of Almeer'S organizational insistence on Expertise, Professionalism, Quality Services, Customer Support and above all Consistency. Almeer maintains & is certied for Quality Management System, Environment Management System and Occupational Health & Safety Management System in accordance to ISO 9001, ISO 14001 and BS OHSAS 18001 standards respectively.
PRESENT DAY
Today the company is recognized and acknowledged as one of the leaders in offering total solutions to major process industries in a wide variety of engineering disciplines like Instrumentation, Electrical, Mechanical & Civil. The major specialized services provided by Almeer are turnkey EPC, long & short term Maintenance, Control System Integration, Field & In-House Calibration, Galvanizing, Manufacturing and Sales & Marketing. Servicing its client-base of notable industrial undertakings such as KOC, KNPC, PIC, MEW, JO, EQUATE, KAFCO and the Private Sectors such as Chevron, Halliburton, Schlumberger etc. from its corporate headquarters in East Ahmadi Industrial Area. Almeer organization conducts its operations through six major divisions. These are:
Sales & Marketing
Automation Services / System & Solutions
Maintenance
Engineering & Projects
Calibration & Services
Manufacturing
All six divisions are competently led and managed by teams of qualied and result-oriented professionals. Almeer takes pride in achieving results, usually from the combination of individual expertise and skills, with motivated and excellent teamwork.